Stacey Lynn and Empowered World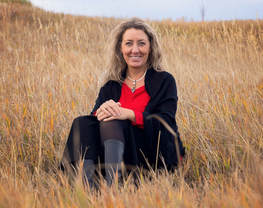 Stacey Lynn is a skilled presenter and a dynamic coach who facilitates accelerated transformation for her clients. Her specialty and focus is identifying patterns of behavior that hold a person from experiencing the life they want to be living. She uses innovative and alternative skills to get results.
She teaches her clients exceptional abilities that can be applied to every area of their lives.
Empowered World was born with the desire to help people live their lives fully and not leave this world with regrets.
The truth is that most people never learn to live and they spend their lives being both afraid of life and afraid of death. Stacey encourages her clients to move through the fears of achievement, living and also of dying.
​
Stacey is certified in Energy Medicine, NLP and as a Neuroscience Coach. She studies Shamanism, Sound Therapy, and Breath-Work for healing. She has studied the work of Napoleon Hill, T Harv Eker and John C. Maxwell, to name a few. She has trained at the Firewalking Institute of Research and Education. (The same organization that trained T Harv Eker and Tony Robbins) She has worked with the worlds top speaker trainers, including Joe Williams. (Tony Robbins Speaking Trainer) She holds several coaching certifications. She doesn't stop learning and her clients benefit because of her drive to succeed in life.

She holds empowerment seminars and presentations. She has assisted hundreds of people to change the path of their lives. Her genuine and real way of being present allows individuals and groups to have powerful transformations.
She is a Repatterning Specialist, Executive Firewalk Instructor, Intuitive Empowerment Coach, Author and Speaker.

Stacey's early years were filled with trauma and violence from a dysfunctional home life. She experienced the loss of multiple loved ones in a short period of time and this changed her focus in life. These experiences started to wake her up to what mattered in life. It had her asking deep questions about her own meaning for being alive. Death became a gift in this way. She learned to be proficient in meditation skills that cultivate the mind, body connection.
She coaches clients through trauma, grief, loss as well as conscious awakening.

After a spontaneous awakening over 12 years ago, Stacey has focused her energy to support the quality of life for human beings.
People are her passion. She understands deeper wisdom and applies this to her work and to her daily life.
She is focused on helping people live the experiences they want to have in their lives.
She brings a wealth of diverse knowledge to the table and this enables her to reach people with different learning strengths.
​Whether it be one on one sessions or presenting to a group she is effective and provides a new, visionary view of life.

If you're a person who is experiencing awakening symptoms and has a desire to live more fully than what you have known, accelerated energy based coaching is designed for you.
If you are a company that is focused on making this world a better place, Empowered World can be your supportive ally to assist in the development and cultivation of an empowered and confident staff.

You are unique, so we create coaching and training based on your desire to succeed.

Stacey can be reached at: Stacey@Empowered.World